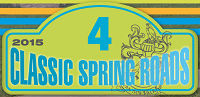 After three memorable editions that have the rank of the biggest regularity rallies of the Belgian season, the 2015 vintage of the Classic Spring Roads, the first for the duo of Willy Lux and Robert Rorife, allowed a good fifty crews to confront the beautiful roads and paths. At the start of the luxurious Hotel Verviers in Verviers, the road book will take the participants on the most beautiful roads of the Ardennes to Bastogne on Saturday, and the Belgian Eifel Sunday. A challenge not facilitated by capricious weather with wish... and not spring. These are the rain, wind, cold and mud that dictated their law for two days, complicating the task of competitors.

On the side of

Experts

, the event was marked by the withdrawal on Saturday night of the Porsche 924 of Daniel Reuter and Robert Vandevorst. Already leaders at the time of return to the Hotel Verviers, Yves Deflandre and Yannick Albert feared the difficulties of Sunday, but no one could wobble the orange bolide, which imposed her with the trilling sum of 365.4 points ahead of the Ford Escort RS 2000 Mk I of Johnny Delhez and Freddy Moors, while the stunning Audi Sport Quattro S1 of Joseph and Julien Paisse completed the podium.

Among the competitors of the

Classic

, more widely at the start, the leaders on Saturday evening were also the winners of Sunday afternoon. Driving a Volvo PV 544 dating of 1961, Yves Noelanders could count on the superb work of his co-driver Thierry De Rochelée, that he had managed to dive back in

Regularity

for the occasion! Two 911's completed the top three, Stéphane Blaise and Marc Sevrin retaining the best on Jean-François Devillers and Eric Chapa.

Just like last year, Marc Reiter and Chrisitne Schobbens were victorious in the ranking

Discovery

, aboard another Volvo PV 544.

| | | | | |
| --- | --- | --- | --- | --- |
| Pos. | No. | Driver / Co-driver | Car | Team |
| 1 | 62 | Deflandre / Albert | Porsche 911 | JPRacer |
| 2 | 65 | Delhez / Moors | Ford Escort RS 2000 Mk I | |
| 3 | 63 | Paisse / Paisse | Audi Sport Quattro S1 | |
| 4 | 67 | Leburton / Demortier | BMW 2002 Touring | |
| 5 | 61 | Musty / Depan | BMW 2002 Tii | |
| 6 | 70 | Fievez / Guilmain | Porsche 911 | |
| 7 | 68 | Mathonet / Lauffs | Volvo Amazone | |
| 8 | 71 | Reul / Halleux | Innocenti Mini Cooper | |
| 9 | 66 | Dransard / Lienne | Volkswagen Golf GTI | |
| 10 | 64 | Pengilly / Rushforth | MG B | |
| | | | | |
| --- | --- | --- | --- | --- |
| Pos. | No. | Driver / Co-driver | Car | Team |
| 1 | 10 | Nelanders / De Rochelée | Volvo PV 544 | |
| 2 | 22 | Blaise / Sevrin | Porsche 911 SC | |
| 3 | 14 | Devillers / Chapa | Porsche 911 | |
| 4 | 17 | Godfrey / Godfrey | Ford Escort RS 2000 Mk I | |
| 5 | 31 | Steffens / Lemaire | BMW 2002 Tii | |
| 6 | 18 | Alfanus / Bernard | Porsche 944 Turbo | |
| 7 | 11 | Baugnée / Remion | MG B Roadster | RGMI |
| 8 | 15 | Hermans / Pigeolet | Alfa Romeo GT Roadster | |
| 9 | 39 | Thery / Maurand | MG A | |
| 10 | 12 | Vander Zypen / Mortier | Alfa Romeo Guilia | |
| | | | | |
| --- | --- | --- | --- | --- |
| Pos. | No. | Driver / Co-driver | Car | Team |
| 1 | 1 | Reiter / Schobbens | Volvo PV 544 | |
| 2 | 3 | Simon / Cathenis | Porsche 911 S | |
| 3 | 2 | Waxweiler / Fresart | Porsche 911 SC Cabriolet | |